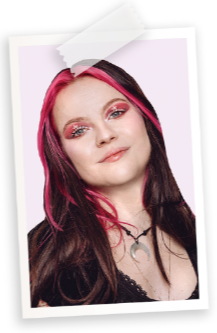 HI, I'M MILLIE!
I was born with a rare condition called Cystinosis that's thrown a lot of challenges my way.
As someone who's been bullied for the way I look, makeup became a way for me to express myself and build my confidence. It's also been a form of therapy through some of life's most difficult times.

Here's a little more about me and my story.
OUR MISSION
I really believe every human is beautiful – and that we all have the right to see ourselves represented in the beauty world. But we also have the right to use accessible products that were created with different needs in mind.

As a disabled-owned business, Human Beauty will never pretend to be inclusive while ignoring key issues that put beauty out of reach. Our innovative products are tested by a diverse panel of people, including those with a range of disabilities, to make sure they actually work.

We look at both the content of our products and their packaging to make sure they're high quality and easy to use. For example, we've introduced easy-to-grip packaging and included video descriptions so everyone can get their makeup therapy in.
OUR ACCOMPLISHMENTS
AWARDS
Featured in Superdrug Faces of the Future
Named Young Entrepreneur of the Year 2020
Graduate Start-Up of the Year 2023
Judges' Choice Award, Santander x UK Awards 2022
Innovate UK's Inclusive Innovation Award 22/23
FEATURES
Official sponsor of the 2023 London Fashion Week
Member of the British Beauty Council
Featured in Cosmopolitan and Dazed Beauty
Mentored by Warpaint for Men founder, Danny Gray
Featured in the Mindset Matters campaign